Seawater treatment machine factory price 50000LPD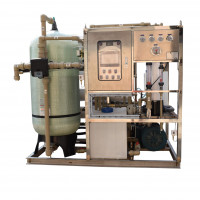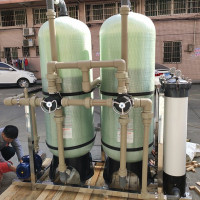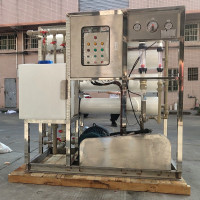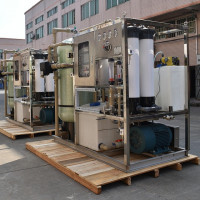 Product DESCRIPTION
This is a set of large-flow seawater desalination machine, with a water output of 50,000 LPD.
This machine uses reverse osmosis technology for seawater desalination.
At present, the advanced technology of water treatment machine, this machine implements PLC monitoring and control, intelligent and simple operation.
The reverse osmosis desalination process does not require heating of seawater, and it operates at room temperature without phase change, so energy consumption is low, and water production costs are low.
In addition, it can be designed according to the particularity of the ship to achieve small size, light weight, less space, convenient installation, strong adaptability, and can be installed in narrow spaces such as engine room, deck, ship cabin, aisle, etc.
The operation is simple and the maintenance is convenient. As long as there is electricity and sea water, fresh water can be supplied immediately after startup.
Product Benefit
Imported well-known brand seawater desalination membrane, desalination rate> 99.2%
High pressure pump imported from abroad
Backwash system extends the life of the membrane
When the equipment has low pressure or high pressure, it will automatically shut down and give out audible and visual alarms
PLC touch screen
Product Feature
Small Desalination System 50000LPD
Model #
ROAGUA-50
Size(L*B*H)
 2300*1100*2310
Weight
≈1800Kg
Power
18.5KW
Recovery Rate
≈33%
Voltage
AC380V/50Hz/3ф
Product Water
Comply with GB5749—06 drinking water quality standard
Level of electric control protection
IP56
Color
Original
Material
316L SS
main part
The SPECK brand imported from Germany is selected, and the reverse osmosis membrane is selected from the American Dow brand
Product APPLICATION
Off-Shore Platforms
Large Marine Vessels
Cargo Ships
Coastal Developments
Hotels & Resorts
Seaside Work Sites
Seaside Villas
Work Boats
Fish Processing Plants
Boat, Yacht and Sailboat
Island-Based Businesses
Villages & Cities