1500LPD seawater desalination RO system for yachat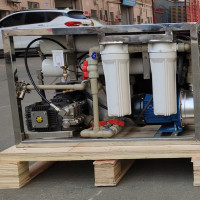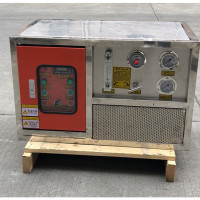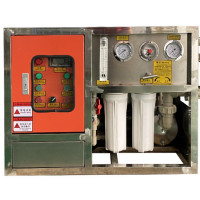 Product DESCRIPTION
This is a portable small desalination system, output water flow rate of 1500 litres per day, is very suitable for the use of fishermen at the seaside.
The seawater desalination system is of advanced design, safe and very convenient to use.
1.High-pressure pump water overpressure protection, when the high-pressure pump water pressure exceeds 6.5 mpa when the equipment automatically shut down and sound and light alarm.
2.Under-pressure protection when high-pressure pump water pressure is not enough, when the water pressure of high-pressure pump is less than 0.05 MPA due to insufficient pretreatment water supply, the machine will stop automatically and sound and light alarm will be issued.
3. Equipped with manual multi-way valve, the sand filter can be filtered, backwashed and rinsed as needed.
4.The alarm system has the function of manual confirmation and silencing.
5. Equipped with reverse osmosis membrane cleaning system, the reverse osmosis membrane module can be physically cleaned, concentrated water replaced, chemically cleaned and filled with protective liquid.
ROAGUA provides thousands of small desalination system on the market every year, bringing people health and happiness, and they are sold to 30 different countries all over the world.
Product Benefit
High-quality seawater reverse osmosis membrane, desalination rate> 99.2%
High-quality high-pressure pump imported from the United States
Anti-rust and corrosion resistance
Long service life: 15-20 years
Small and light, easy to use, easy to maintain
Product Feature
Small Desalination System 1500LPD
Model #
ROAGUA-1.5
Output capacity
1500LPD
Recovery Rate
15%
Power
1.5KW
Voltage
220V50HZ,380V50HZ,440V60HZ
Working Pressure
3.5MPA~5.5MPA
Working Temp
5~45℃
inlet TDS
<40000PPM
Salt rejection rate
99.20%
outlet TDS
<700PPM
PH
3~10
Machine size
800*500*500mm
Package(wooden case)
1200*680*720mm
Machine Weight
80KG
Product Application
Off-Shore Platforms
Large Marine Vessels
Cargo Ships
Coastal Developments
Hotels & Resorts
Seaside Work Sites
Seaside Villas
Work Boats
Fish Processing Plants
Boat, Yacht and Sailboat
Island-Based Businesses
Villages & Cities