Large scale industrial water RO Plant/equipment
Product DESCRIPTION
These industrial reverse osmosis systems are designed to produce low-dissolved solid water from tap or well water, using highly efficient reverse osmosis membranes. Product water is used in semiconductors, boiler feed water, pharmaceuticals, municipal, water reuse, food processing, bottling, factories and a variety of other applications.
Our water filtration system combines years of experience and has accumulated many design details. Our process and fluid design ensures optimum membrane life and minimizes membrane fouling.
The cost-effective industrial equipment uses the latest RO technology to remove dissolved minerals, particles, organic matter, solids and other contaminants from water. The system uses reverse osmosis membranes as its core separation technology to remove most of these contaminants.
Ro Agua. Use the best-known film manufacturers such as Dow Filmtec, Hydranautics and Toray to deliver high-quality products.
Compact design
Our largest tap and brackish water units are equipped with standard pre-treatment including media pre-filters, chemical and scale dosing system. These systems are often customized to meet the requirements of specific industrial applications. Therefore, we provide the option to customize the pre-processing system to specific conditions. Our system is considered to be one of the most compact industrial reverse osmosis systems on the market. Its features include state-of-the-art energy-saving membranes, rugged construction, automatic design, environmentally conservative operation and long-term reliability.
Large capacity
The series includes systems with capacities from 4000LPH to 30TPH. The series can be managed using TDS up to 5000 PPM of water.
Product Benefit
Available in Single or Double Pass RO System configurations
Over 10 years of experience in reflected in our quality
Stainless steel high pressure components
Stainless steel multi-stage centrifugal  pump
Highly efficient, customizable and economical
Microprocessor controlled operation
PLC controller operation
Conservatively engineered for reliable, long term performance
Factory tested to ensure trouble-free operation
Product Feature
Thin Film Composite RO Membranes
Stainless steel multi-stage centrifugal RO pump
FRP RO membrane pressure vessels
5 Micron Sediment Filter
Motorized automatic inlet feed valve
Concentrate & recycle panel mounted SS flow control valves
Automatic membrane feed flush
Low inlet pressure switch
High pressure switch
Product TDS (or Conductivity)  with digital display readout
Cleaning ports
Liquid filled pressure gauges
Permeate conductivity monitor
Permeate & concentrate flow meters
PLC based control panel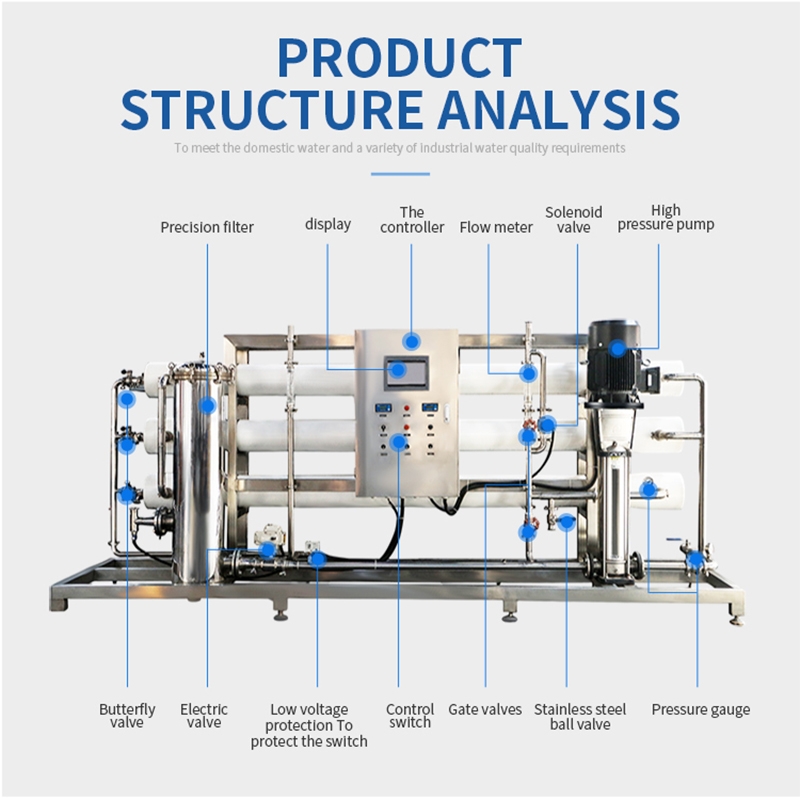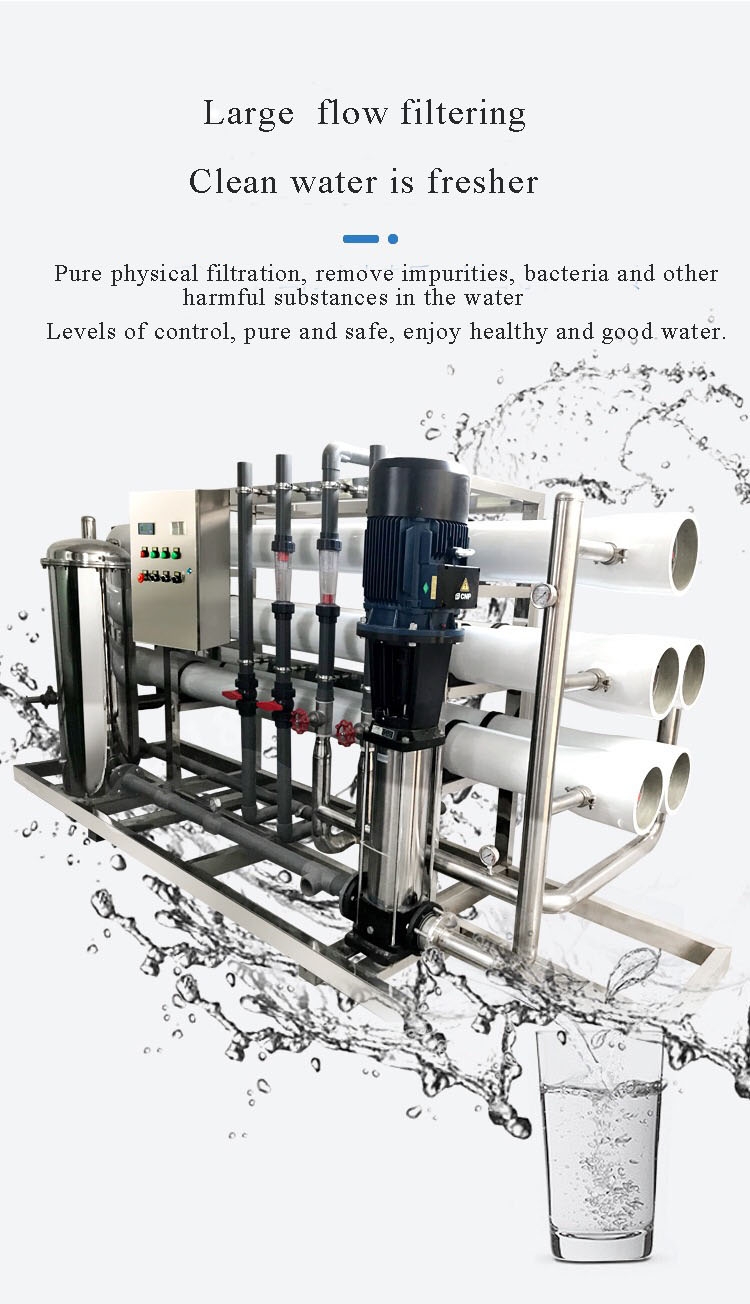 Product APPLICATION
The ideal applications for industrial RO water filtration plant include:
Electronics
Boiler Feed Water
Pharmaceutical
Mining Industry
Laboratory Water Purification System
Food and Beverage
Beverage Production and Bottled Water
Safe Drinking Water
Popular Model below: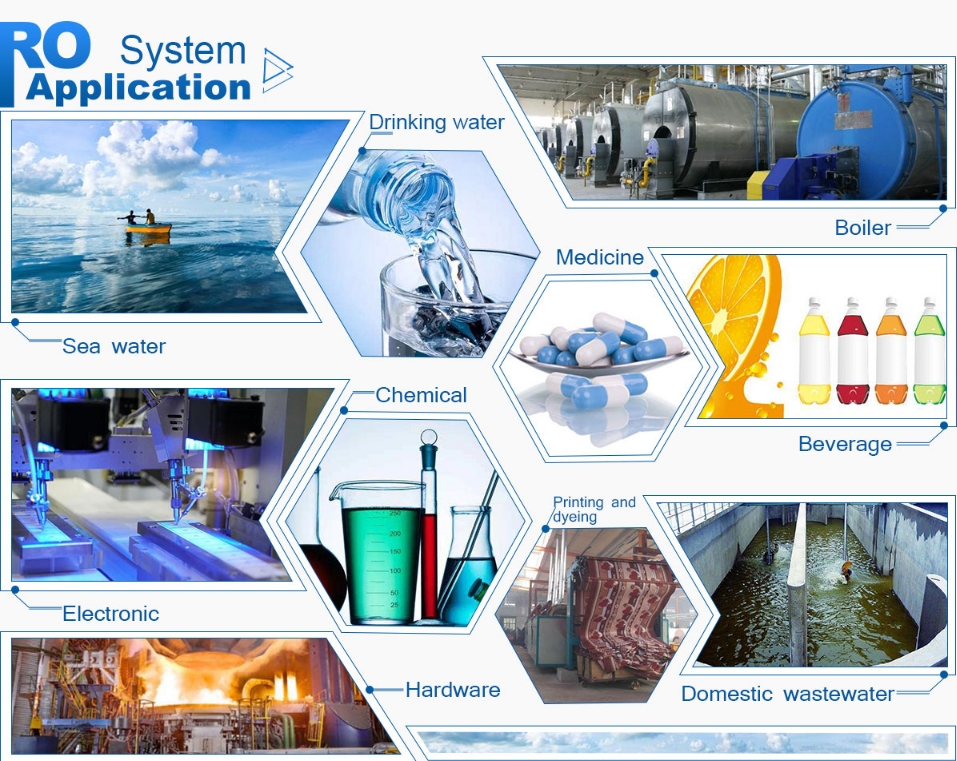 MORE DESIGN REFERENCE