Containerized seawater treatment plant 320TPD for drinking water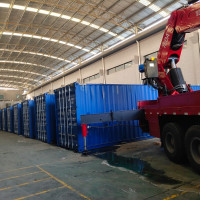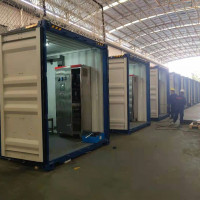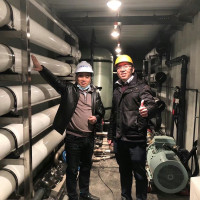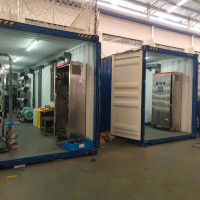 Product DESCRIPTION
This is a 40-foot-HQ container seawater desalination plant.
The system includes independent installation of pre-filter and cleaning water tank, seawater water feed pump, flocculant dosing system, scale inhibitor dosing system, precision filter and security filter are installed in a skid in the form of a common base.
The reverse osmosis host (including the motor) , High-pressure pumps, reverse osmosis membrane housing, online detection instruments and electronic control devices are provided as a skid in the form of a common base.
All the above components and equipment are installed in the container.
The whole system is centralized controlled by Siemens' touch screen PLC. The high-pressure pump implements frequency conversion start, operation and stop.
When the equipment runs abnormally, it automatically executes the alarm function or shuts down, and selects well-known brand electrical components with reliable performance and long life.
All components of the system are compatible with the harsh environment created by sea water
The containerized seawater treatment plant meets all customer requirements and provides fresh water to the end user.
Product Benefit
Low energy consumption
Top quality components
Quick to install
Environmentally friendly
Fully supported
Product Feature
containerized seawater treatment plant320TPD for drinking water

Model #
ROAGUA-320
Size(L*B*H)
12000*2500*2450
Weight
≈15000Kg
Power
49KW
Recovery Rate
≈33%
Voltage
AC380V/50Hz/3ф
Water quality
Comply with GB5749—06 drinking water quality standard
Electric control protection level
IP56
Color
original
Material
SS 316L
Main accessories
The SPECK brand imported from Germany is selected, and the reverse osmosis membrane is selected from the American Dow brand
Product APPLICATION
Island Villa
Offshore drilling
Seaside hotel
Marine