Containerized industrial desalination treatment plant for drinking water 100TPD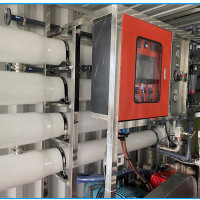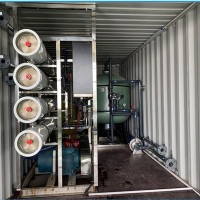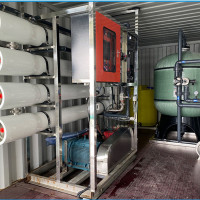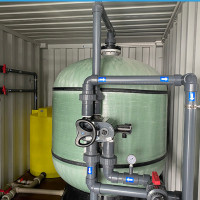 Product DESCRIPTION
This is a containerized desalination system developed on the basis of a conventional desalination system. The capacity of the system is 100 tons per day and the maximum TDS is 40,000.
The system mainly provides people with larger drinking water after processing seawater.
The system implements PLC centralized monitoring and control; and can automatically switch on and off according to the front and back liquid levels; the water will first pass through a quartz sand filter to achieve the best filtering quality.
It is controlled by an automatic control valve and can be backwashed according to the set program;
The high-pressure pump adopts frequency conversion control to make the system run stably and reliably. When the inlet pressure of the high-pressure pump is insufficient or the outlet pressure is overpressure, it will automatically stop and give an alarm.
When the salt content of the product water exceeds 700mg/l, the system will automatically discharge and give an audible and visual alarm.
The plant establishes a complete electrical system to control all valves and pressure gauges of the equipment.
Everything is specially designed and structured so that customers can use it easily.
Product Benefit
Low operating cost
compact size and save space for customers
high quality production of freshwater.
suit for long-distance transport
Adapt to different environments
Product Feature
containerized desalination treatment plant for drinking water 100TPD
Model #
ROAGUA-100
Capacity
100TPD
Recovery Rate
35%
Power
30KW
Voltage
380V50HZ;440V/60HZ
Working Pressure
3.5MPA~5.5MPA
working Temp
5~45℃
inlet TDS
<40000PPM
Salt rejection
99.20%
output TDS
<700PPM
PH Value
3~10
Machine Size
5000*2000*1900mm
Wooden Size
5400*2300*2200mm
Net Weight
4500KG
Packing Weight
5000KG
Product APPLICATION
Island Villa
Offshore drilling
Seaside hotel
Marine