5 plates hydrogen water ionizer electrolyte machine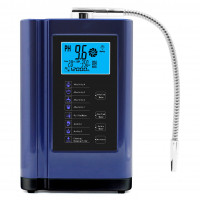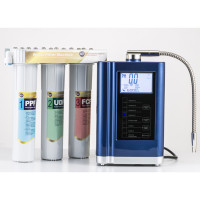 Product DESCRIPTION
Hydrogen water ionizers are the trendiest way to drink water. The ionizer supplies the body with molecular hydrogen, which helps release toxins and increases antioxidant capacity. There are many benefits of drinking hydrogen water, but the most notable is the ability to improve energy levels.
Some people are skeptical about whether these machines have an effect on mood, but there are several studies that prove that drinking hydrogen water can reduce fatigue and improve cognitive function.
This is because hydrogen gas acts as an antioxidant in your body which can help protect against inflammation triggered by aging or stress. The gas also promotes cell growth and removes toxins from your cells which have been linked to cancer risk.
A traditional ionizer machine uses four plates, generating ionized water that is alkaline, but with low levels of hydrogen. The 5-plate Ionizer generates high levels of hydrogen in the water. This is due to the increased surface area in contact with the water.
The benefits of drinking this kind of electrolyte water are numerous. It can regulate your body's pH level, detoxify your body and assist in weight loss by speeding up metabolism and reducing appetite.
Some studies have shown that drinking ionized water can also improve concentration levels and cognitive function.
A hydrogen water ionizer electrolyte machine is a device that separates the water into an oxygenated hydrogen-rich stream and a pure, filtered stream. The hydrogen rich water is for drinking for healing purposes while the filtered stream can be used for cooking or cleaning. It is recommended to drink at least 2 liters of this purified, oxygenated water per day.
This machine can increase your energy level, improve your skin condition and make you feel happier. People who use it report having increased concentration levels and improved moods. You can also treat chronic fatigue with this machine by drinking the electrolyzed hydrogen water every day.
In addition to these benefits, treating cancer patients with this machine has been shown to reduce tumor size and metastasis in many cases when used in conjunction with chemotherapy treatment.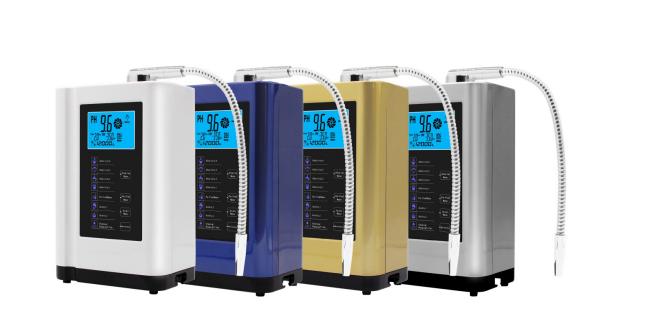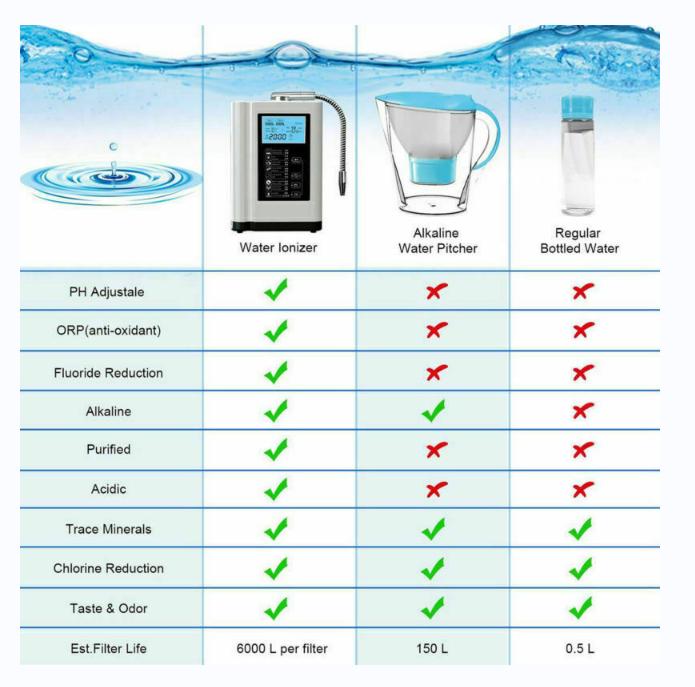 Product Benefit
gives you a lot of energy-electrolytes/oxygen.
Washes the acidic wastes from the body.
Help with digestion and digestive problems
Rehydrate your body three times more efficiently than conventional or bottled water.
nutrients are more efficiently absorbed by the body.
promotes constipation.
Promote overall health and recovery by keeping the body in balance.
healthy cells live in an alkaline environment.
It is also good for Animals as well as Humans.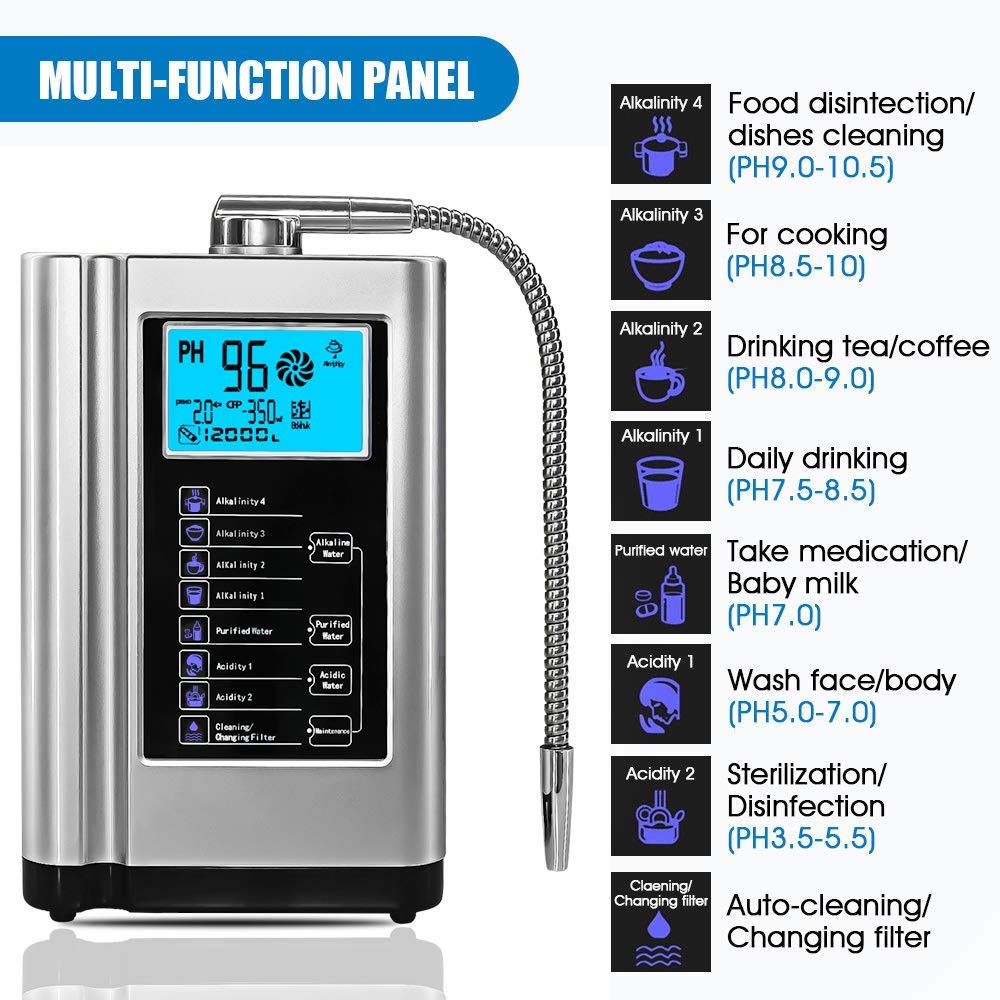 Product Feature
Product Name
5 plates hydrogen water ionizer electrolyte machine
Color
White/Blue/gold/silver
Packing Size & weight
29*19*35.5CM     4kg
Numbers of Plates
5(default)/7 plates
Plate size
7.9 * 4.3cm
Plates Material
Titanium with platinum coating
PH
3.5~10.5(as per local water quality)
ORP
 +400~-500MV(as per local water quality)
PH levels
4 Alkaline, 1 purifed, 2 acid
Internal filters
1 activated carbon filter
Display
PH, ORP, Flowrate, filter's life time, process,
Matrix LED
Auto Cleaning function
Yes
Power supply
SMPS(110v/240v)
Flow rate
0.8-3.5L/MIN
Water supply method
Pipe with running water
Water flow controlling valve
No
Heating system
No
Working TDS range
50-1000 PPM
Mineral port
No
Multi-power plug
Yes
Touch -control panel
Yes
Voice prompt
Yes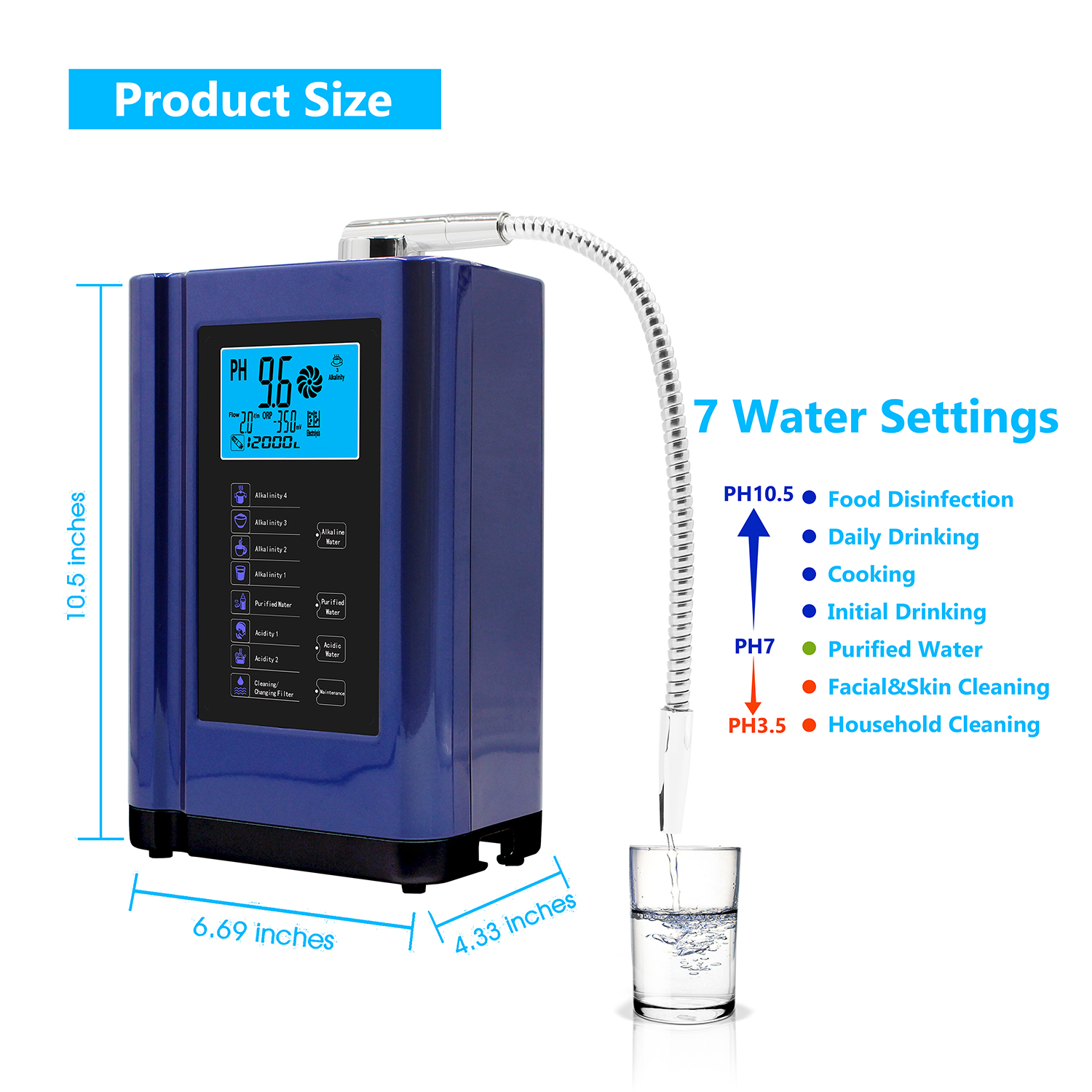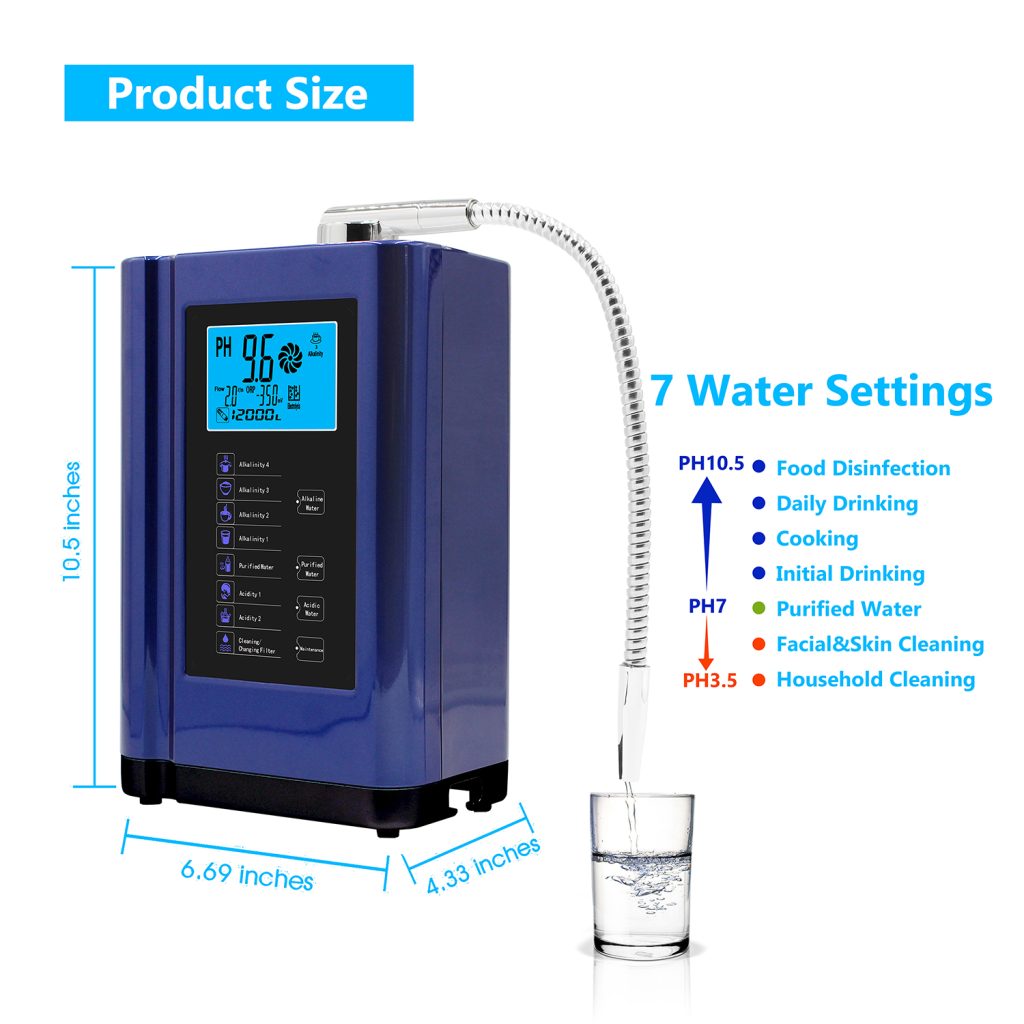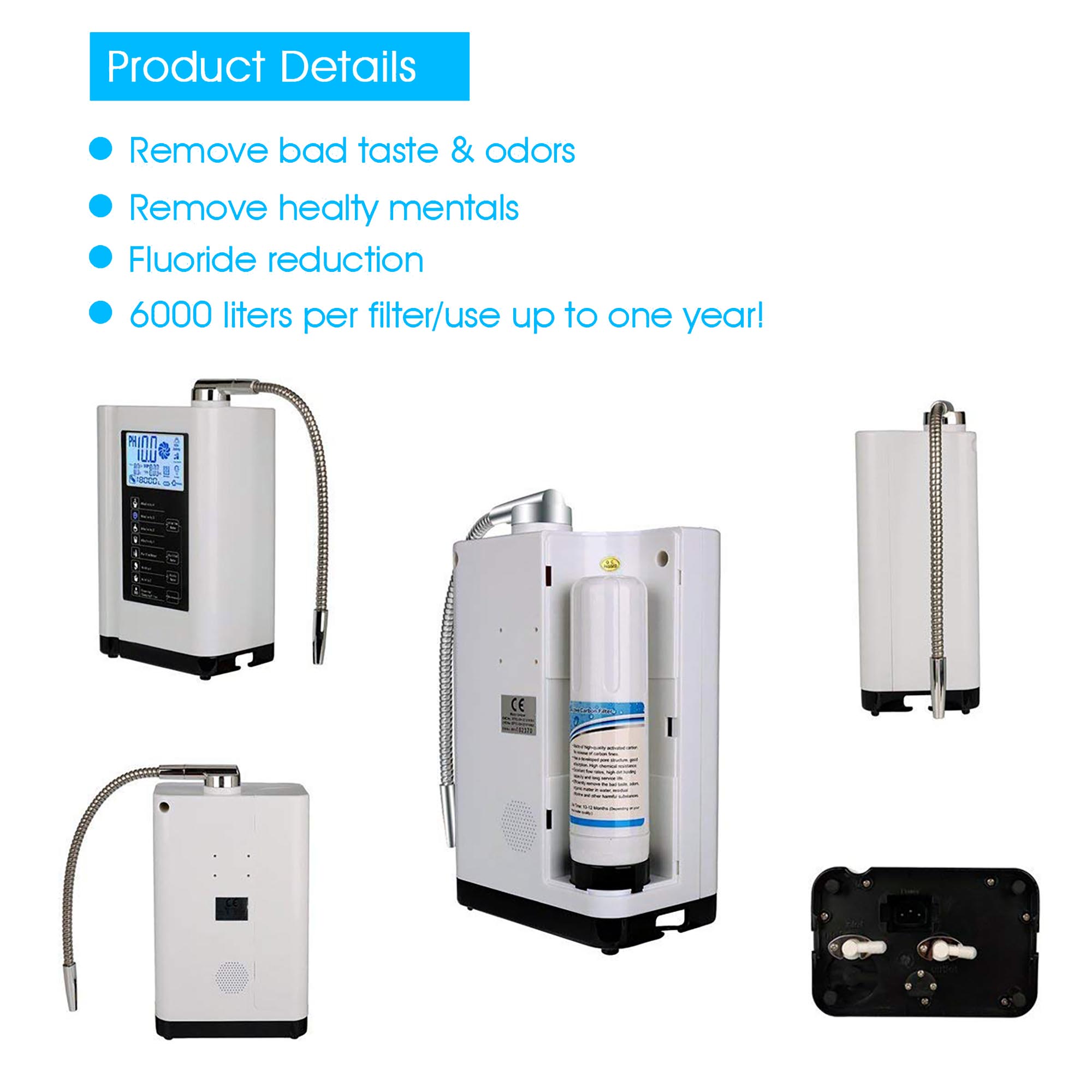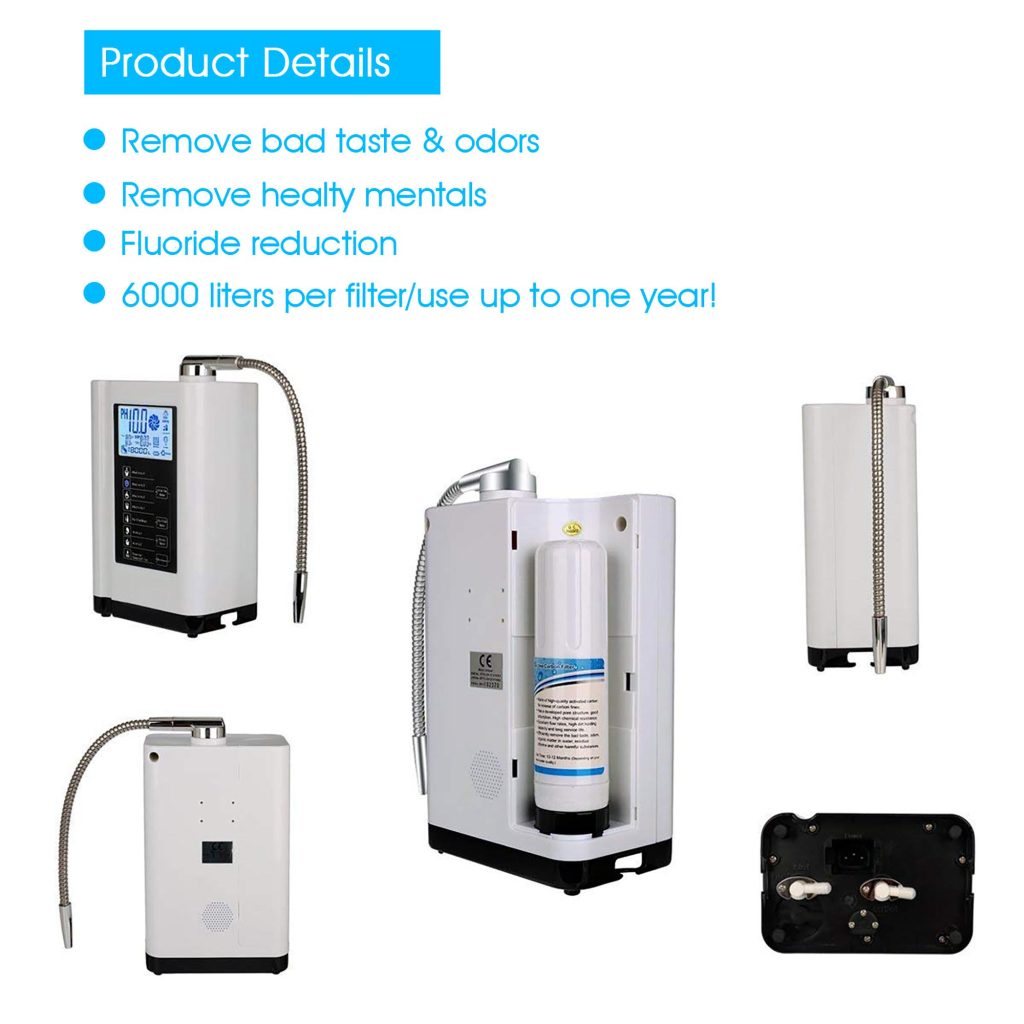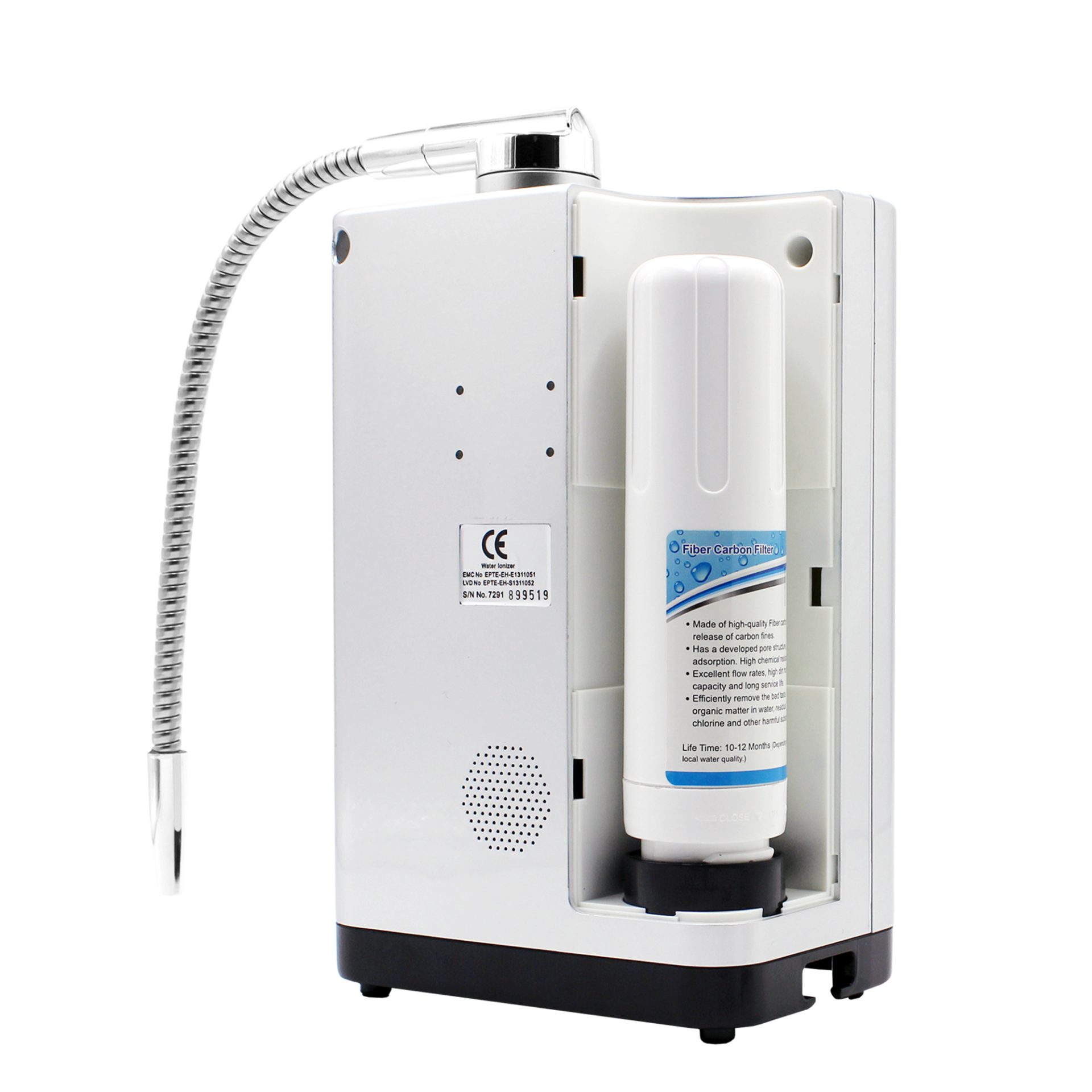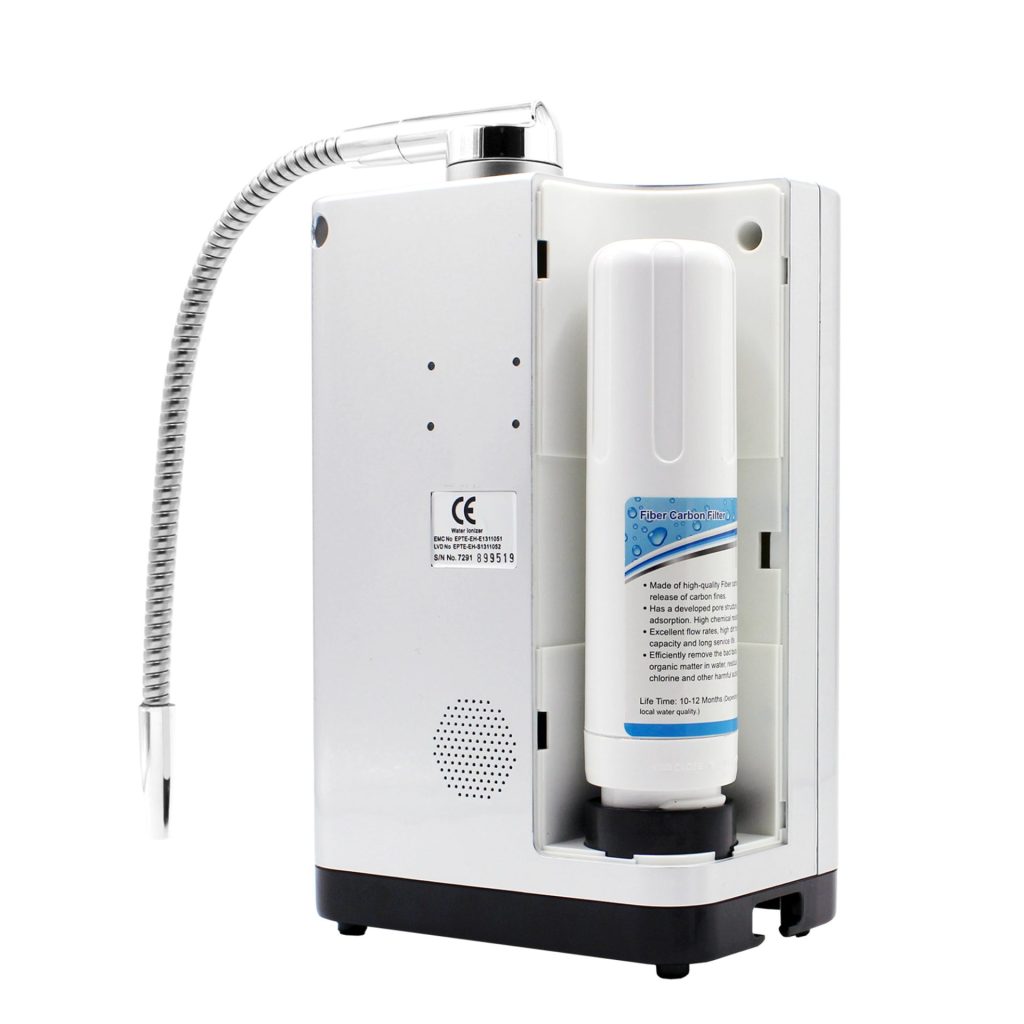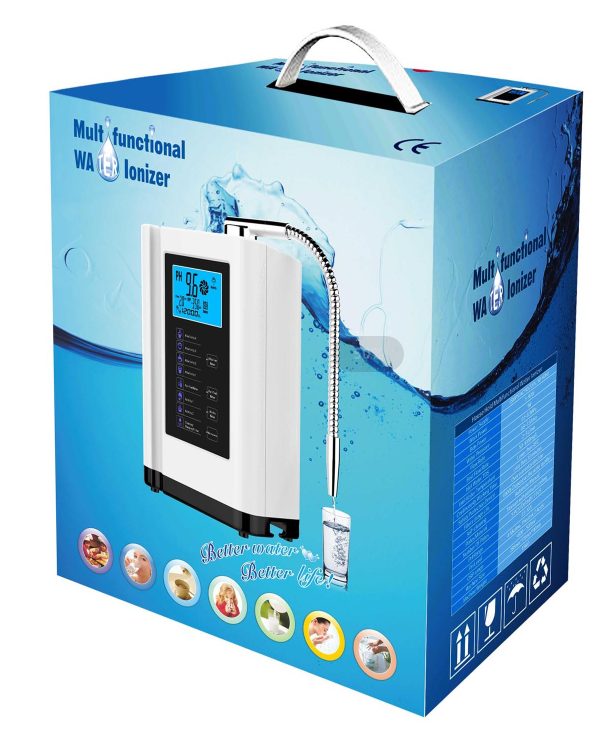 Product Application
Household
Hotel
Cafes
Offices
Schools